Bioengineering Concept
Problem Statement
Mismanagement of soil and surface water flow lead to slope erosion related problems.
Slope erosion at FT KM 45, Jalan Simpang Pulai – Cameron Highlands Highway which lead to sedimentation in Sg Penoh, hence to Sultan Azlan Shah Dam created the need to establish a slope erosion mitigation mechanism within Upper Kinta Basin catchment area.
"Hard" techniques (engineered concrete and steel structures) may posses threat to natural biodiversity of the water catchment area.
Conflict of spaces between conventional infrastructures and Intrinsic development space needed by natural systems.
Proposed Concept of Mitigation Initiatives
Soil and Water Bioengineering is an ecological engineering solution that reestablishing both form and function to attain autonomous and stable ecosystems. It is used to:
Control natural hazard.
Restore or reintroduce plant and animal species onto degraded lands and disturbed environments
Increase soil, air and water quality

Reduced / Less runoff
Reducing amount of water in the soil greater soil cohesion
Proposed techniques applied in controlling soil erosion:
Hedgerow Planting: Dense vegetation in a linear design for natural resource conservation using woody plants or perennial grasses.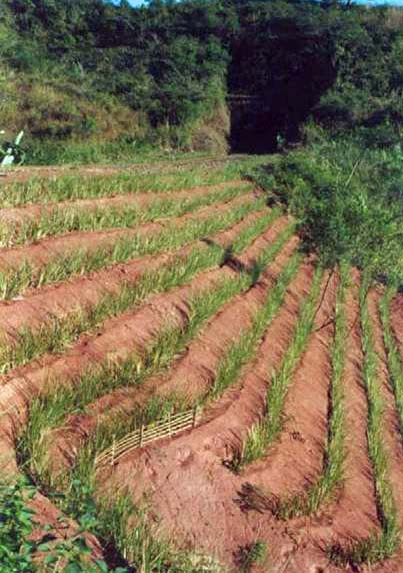 Vetiver Grass Planting (Can be Hedgerow planting too): Soil-filled bags are compacted in gullies to arrest progression of gullies. Vetiver are planted in the top soil-filled bags (filled with fertile soil). The bags will normally deteriorate and breakdown under the sun, but the roots of vetiver keep the soil in place.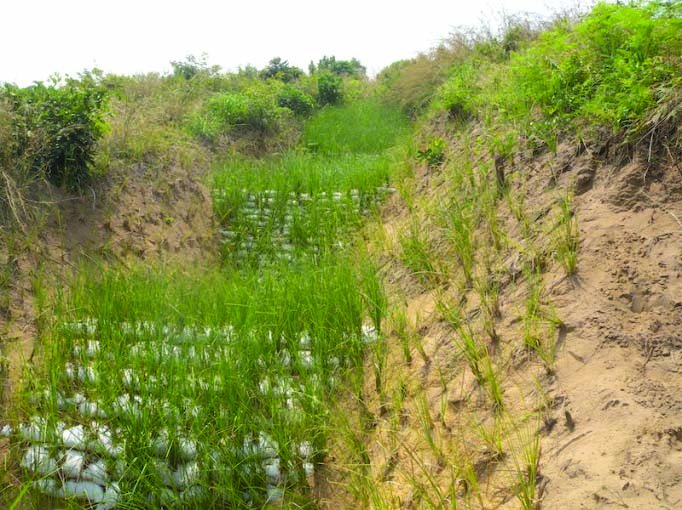 Palisade Technique: Woody cuttings planted in lines across the slope following the contour. These cuttings form a strong barrier and trap earth materials moving down the slope. In the long run, a small terrace will develop and stabilize the slope. Palisades can also be installed at an angle if drainage is a problem.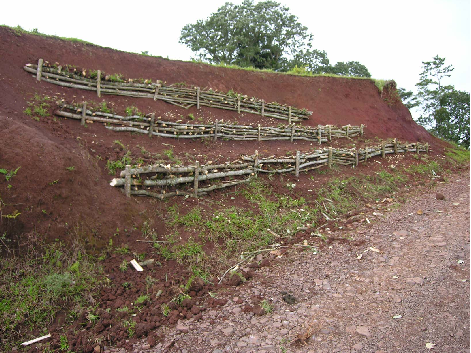 Vegetated Crib walls Technique: A crib retaining structure with live plants between crib layers. Wooden logs and bamboos are considered as crib elements and live cuttings or rooted plants (vegetation) are laid between crib layers.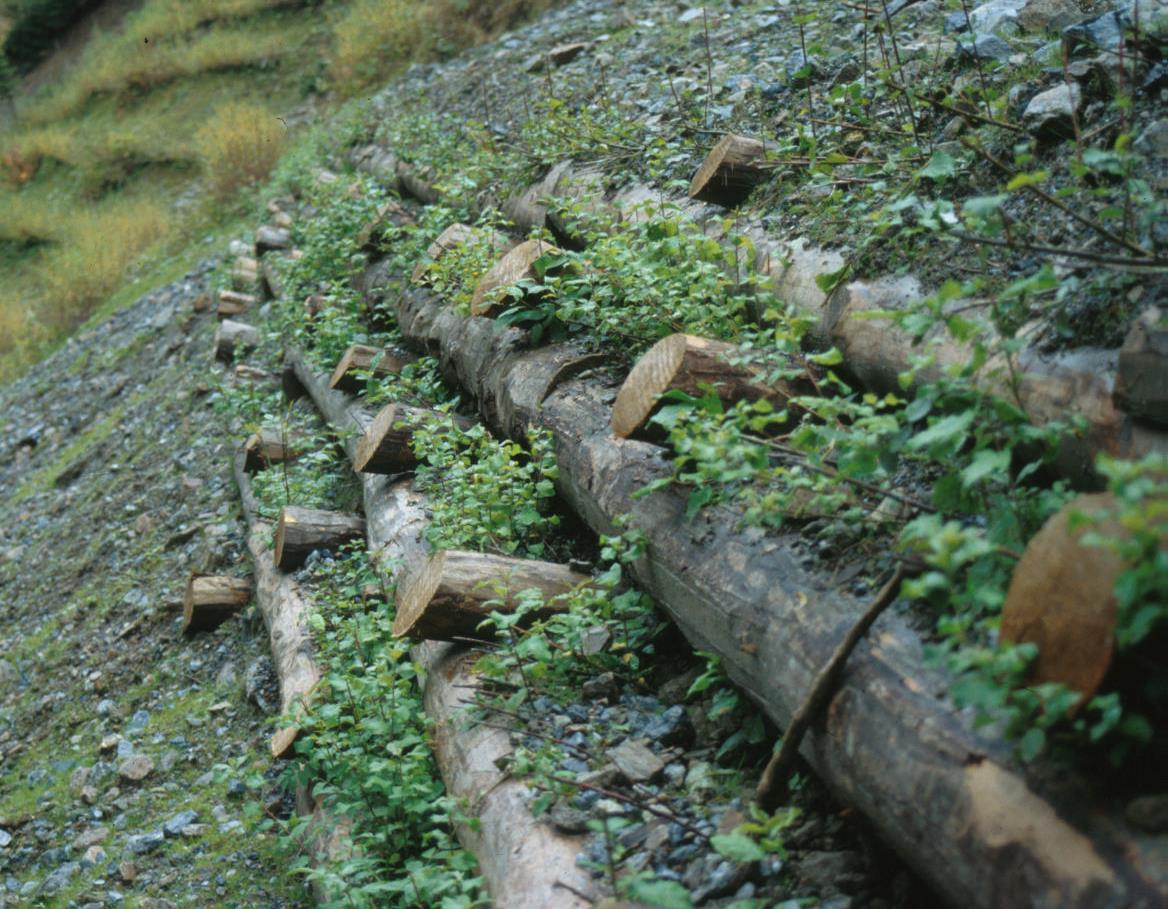 Fascines Technique: Bundles of live branches are laid in shallow trenches later put out roots and shoots forming a strong line of vegetation. It is some times also called live contour wattling. They can be established along contours or diagonally depending on the drainage requirement.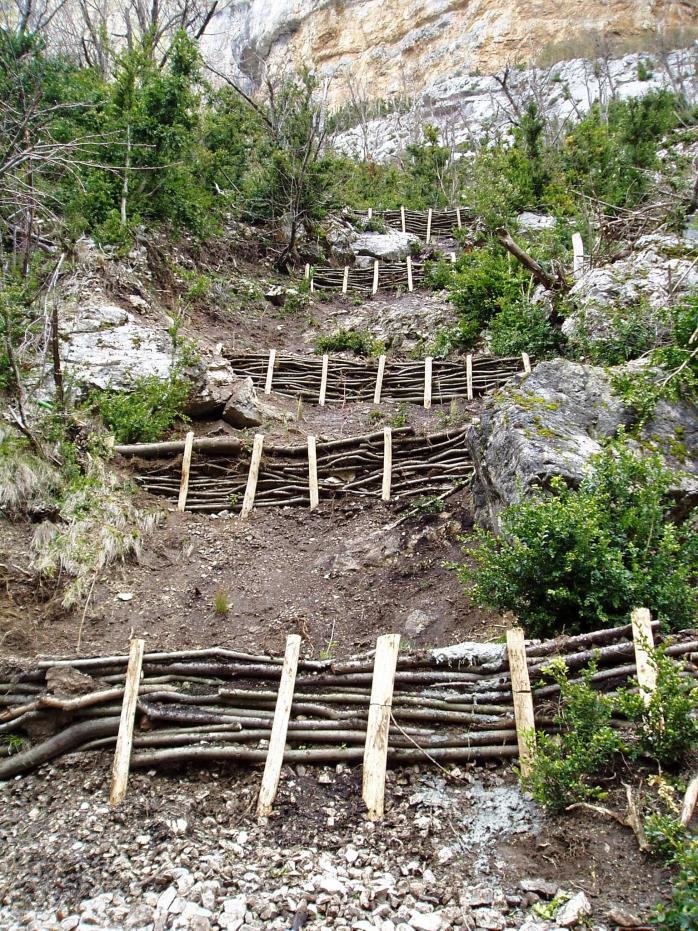 Life Check dam Technique: Woody cuttings of shrubs or large tree species are planted across a gully, usually following the contours. These form a strong barrier and trap sediments moving downwards. As time passes a small step-like terrace will develop in the floor of the gully.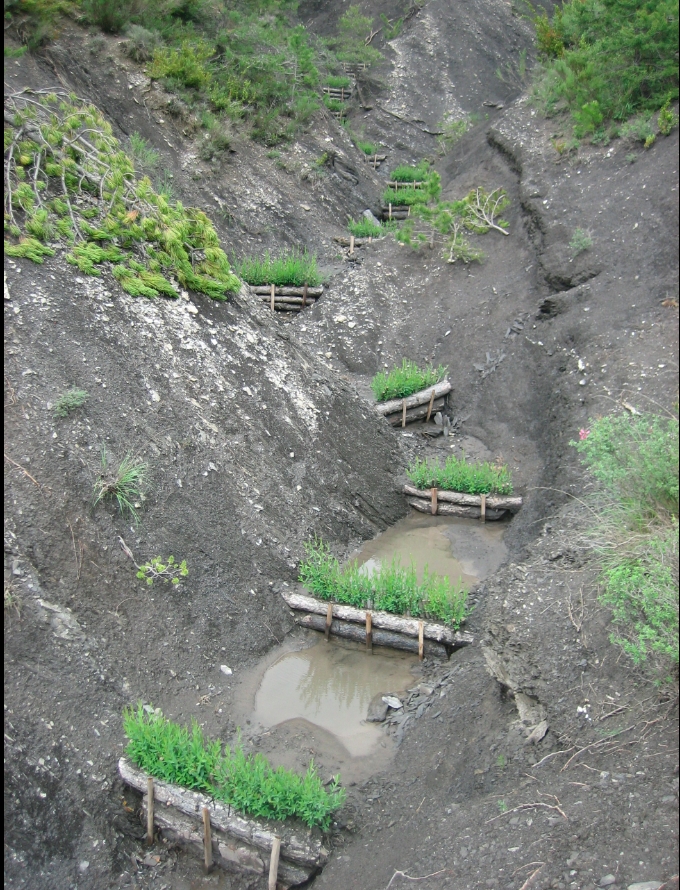 Gabion walls combined with vegetation: Stone filled gabion walls have special properties of strength, flexibility and free drainage. It can be used up to 10 meters of height for retaining walls, cascade channels and check dams. Gabions can allow protection for vegetation and vegetation may provide additional stability once gabion walls begin to deteriorate.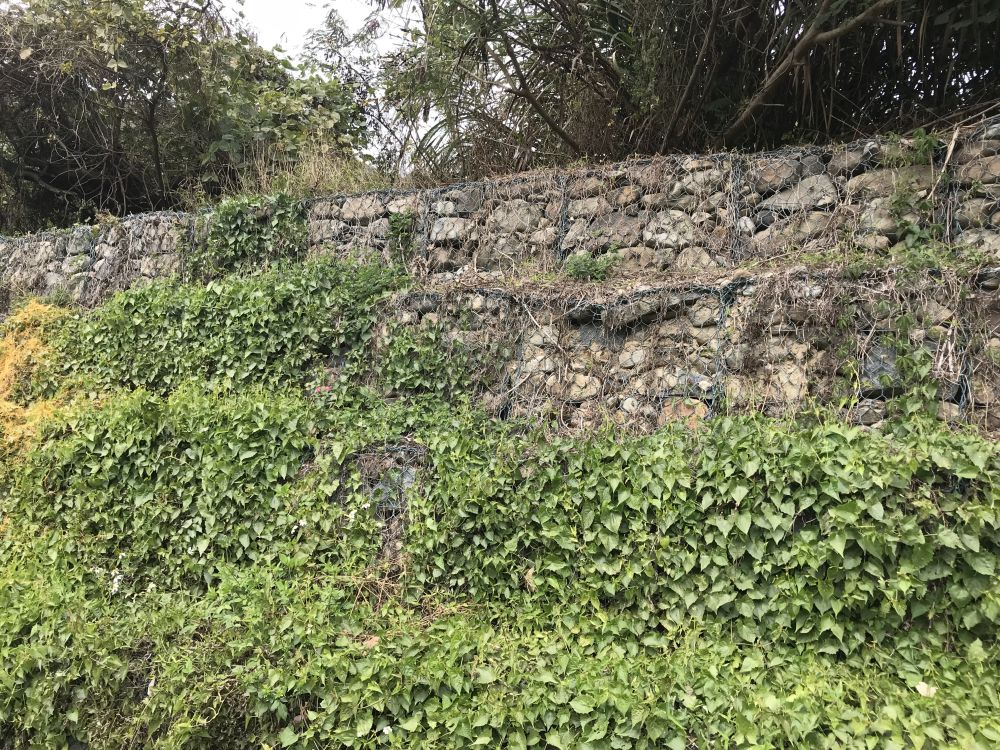 Dry stone walls combined with vegetation: Dry stone walls are low cost options for slope and road side slope protection. They can be used up to 2 meters high as retaining walls, cascade channels and check dams. Dry walls are for immediate protection of shallow slopes whereas vegetation provides additional stability as time passes.